With its plate of details and its light blue glazing, this living room table, the canyon of Velika Korita pays homage to the valley of  Soca in Slovenia.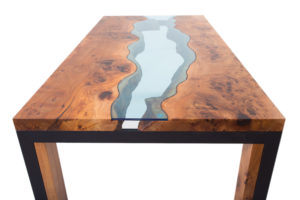 Indeed, this area of the western north of the country is famous for its beautiful landscapes where nature is a queen. The color of the glazing of the canyon table of Velika Korita was chosen more natural and a more transparent to match the color of the river.

The piece of wood that gave the idea to Heron-design to create this table, is marked by its splendid knots, flunks of elm and the roughness that gives it a unique visual relief. 
The Soca valley is ecologically committed. It is therefore natural that a table in the name of this river has its place in the collection of Héron-design.
Characteristics:
Collection : Tabl'eau
Reference : Canyon de Velika Korita Table
Dimensions : 180 x 90 x 75
Species : Elm
Glass : Laminated / tinted glass
Information and order : Contact us